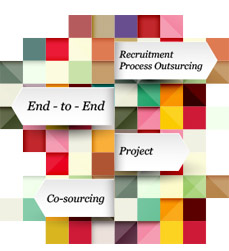 "
Our RPO service is about to
first understand your recruitment
challanges – and then providing
intelligent, state – of– the –art and
customized solutions to those challenges.
"
Three Key Performance Indicators (KPIs)
RPO can reduce time-to-fill by 15% to 60%
RPO can increase hiring managers satisfaction by 20% to 67%
RPO can improve new hire retention
rate by 11% to 55%
Source Aberdeen Group, February 2009
RPO
What Is Recruitment Process Outsourcing (RPO)?

RPO Alliance, a group of the Human Resources Outsourcing Association (HROA) defines RPO as follows: "Recruitment Process Outsourcing (RPO) is a form of business process outsourcing (BPO) where an employer transfers all or part of its recruitment processes to an external service provider. An RPO provider can provide its own or may assume the company's staff, technology, methodologies and reporting. In all cases, RPO provider assumes ownership of the design and management of the recruitment process and the responsibility of results."

Recruitment Process Outsourcing (RPO) is one of the fastest growing single-process Human Resources Outsourcing (HRO) markets with a growth rate of over 25%. The European market is the second largest RPO market after North America.

Whereas this trend is very recent in the Turkish market and is still in its infancy; we foresee Recruitment Process Outsourcing (RPO) as soon being a widely used critical strategy by Turkish employers in becoming market leaders.

The 2011 RPO market level of 1.4 billion US dollars indicates a clear business case for RPO in assisting organizations achieve top-level results in talent acquisition. By overcoming the challenges of high cost and low performance, RPO facilitates the refocusing of key human resources on senior-level corporate competencies.

Benefits of Abago RPO Solutions:

High value consultative approach
Customized delivery model aligned with your infrastructure
Flexible, scalable and cost-effective solutions to accommodate your fluctuating hiring needs
Reduced time-to-fill — Multi-tiered sourcing strategy accelerates the process
Specific industry bandwidth and high-touch approach attract top talent
Access active, passive and hidden candidates
Enhanced quality of hire and new hire retention
Increased hiring manager and candidate satisfaction
Quantifiable results — SLA and KPI driven metrics and outcomes
Improved employer brand and corporate reputation
Top-notch employee engagement as a result of professional, transparent and fair management of internal referals and candidates.

Building the Delivery Team

The meticulously assembled Abago delivery teams can operate at your required location - both onsite and offsite, and from one or more company locations - or even an onsite/offsite hybrid.
These sourcing and recruitment specialists, presenting a perfect cultural fit, will become a natural and easygoing extension of the client's own HR team. Our delivery teams receive regular and in-depth training in the client's market dynamics, culture and innovative sourcing methodologies.

Abago has the length, breadth, experience and expertise in RPO services to address your every recruitment need and challenge.
End-to-End RPO

Abago Talent Consulting provides a comprehensive recruitment partnership, elevating your organization's talent acquisition functions from merely tactical to strategic, thus maximizing the value of your human capital.

We develop a custom solution in line with your business goals and objectives and we'll partner with you across the lifecycle of your talent and recruiting strategy.

A spectrum of drivers may lead your company's top management to consider an End–to- End RPO solution:

capitalization of best-in-class processes
access of superior talent pools which improve quality of hire
dramatic and rapid improvement of recruitment performance to accelerate business growth plans, thereby gaining a significant market share ahead of the competition.

We execute each project against clear Service Level Agreement parameters and rigorous project management disciplines, optimizing both performance and our client's ROI.

With Abago Talent Consulting as your End-to-End RPO partner, you are guaranteed a truly collaborative and integrated approach as we become an extension of your enterprise. We assume full responsibility for the strategies, services and compliance associated with the business management process.

Scope of Abago End-to-End RPO Offering:

Talent Strategy / Workforce Planning
Employment Branding
Manage Technology
Sourcing
Talent acquisition programs
Building and maintaining talent pools
Requisition development
Advertising on media and job boards
Targetting passive candidates
Social media recruiting
Selection&Assesment
Screening
Testing
Interviewing
Assesment
Referance checking
Administration
Coordinating interviews and assesments
Updating candidate information and database
Offer Management
On – Boarding
Supplying / sending forms
Conducting orientation
Logistics to obtain equipment, training, IDs
New hire and hiring manager satisfaction surveys
Internal Staffing



Project RPO

Our comprehensive solution means: executed to scale - within a defined timeframe – support for your a specific volume hiring.

Project RPO is especially beneficial for high-volume and urgent-priority recruitment needs within a defined timeframe - especially when your HR team must focus on conflicting priorities and challenges such as being understaffed.

Abago Talent Consulting can rapidly deploy a project-based initiative designed to accomplish the exact hiring or candidate sourcing objective within your specific business situation. When you need a laser-focused sourcing or recruitment campaign to generate the necessary on-target candidates, our Project RPO offering is the perfect solution.

So whether you need to:

quickly expand your sales team for a new product launch or regional penetration,
hire ten brilliant management trainees - before your competition - from amongst fresh graduates of the leading universities,
establish a R&D center with fifty talented engineers,

we'll tailor our comprehensive services to fit your project parameters and meet your objectives - on time and on budget.
Co-Sourcing RPO

If you're seeking an RPO partner to outsource the recruitment process of a specific business unit or department, skill set, or geographic location on an ongoing basis, whilst not including the entire business, then Abago Co-Sourcing RPO is the right solution.

Alternatively, you may wish to utilize Co-Sourcing RPO for outsourcing just portions of the recruiting process, such as candidate research, direct sourcing, internet sourcing, screening or reference checking.

The attractiveness of our co-sourcing solution is that any part of the entire recruitment process, large or small, can be supported, leaving control of delivery internally, whilst flexibly mitigating resource challenges with high quality delivery.

Abago's Co-Sourcing team works in conjunction with yours to achieve a specific hiring process objective, leaving HR to focus on core issues.

We promise to advance talent acquisition by streamlining the recruitment process, increase qualified candidate flow and deliver an excellent candidate experience.

Consider Co-Sourcing RPO to increase your company productivity, and boost your hiring manager's level of satisfaction.

We can create a program that will drive significant volumes of sourced and pre-screened candidates into your talent pipeline.
We can assist your company fully leverage the candidates available through your Applicant Tracking System, job boards and numerous online resources, shortlisting only candidates you would really wish to interview and hire.
In other words, by utilizing Abago's expertise and outsourcing capabilities for the front-end process, you will not only significantly cut down time and gain quality talent, but have more control over direct and indirect costs.